There are lots of homeschooling books to choose from these days. I've listed only those few that I have found to be exceptionally helpful in parenting and home schooling children. These are books that I really couldn't' do without. Allhumdulilah.
The Best one that I could suggest for those wanting to learn more about Home Education is Complete Idiots Guide to Homeschooling. This book is NON Christian and provides a common sense, no nonsense understanding of home schooling from many different angles.
If you have any books that you think would benefit others please send them to the Muslim Home Education Team
These books should be available to buy either online or from your local book supplier. Let us know if you ahve trouble finding them where you live and we will try and help.
Complete Idiots Guide to Homeschooling
by Authors: Marsha Ransom , John Taylor Gatto ISBN: 0028639898

One useful occupier of my homeschooling resource bookshelf. Explains briefly for those who cant take a lot of time the whys and wherefores of homeschooling .Finding the right philosophy and approach(es) to use, how to locate support groups and resources, its all there. Not preachy, academic or laden down with long-winded interviews or religious baggage. Definitely not Christian allhumdulilah



---
The Unschooling Handbook : How to Use the Whole World As Your Child's Classroom
by Authors: Mary Griffith ISBN: 0761512764

I had heard of homeschooling before, but not of unschooling. Having read the book, and the comments in it from unschooling parents and children, the latter is definitely what I would choose for any children of mine. Tell you what, after reading it I wished I had been unschooled! Unfortunately, I haven't, however, I reckon with my kids, whenever they come along, I can make up for a lot of what I've missed, by learning alongside them. I'm looking forward to that opportunity! The book is excellent in that it not only clearly explains the concept of unschooling, it also gives practical examples of how the children get an interest in learning to read, how mathematics and science are included in every day life, how history and the arts become wonderful day trips to museums, etc. On top of all that it has a chapter on coping with doubts and challenges, and each chapter has a long list of reference books where more info can be found. In short, a real gem. The whole world should return to unschooling I think. I highly recommend it.
---
The Survivors Guide To Homeschooling
by Luanne Schackelford & Susan White ISBN: 0891075038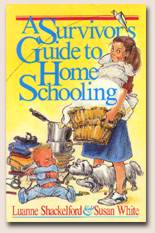 Home schooling may be one of the most important and rapidly growing social movements of the day, but that doesn't get the laundry done for home teaching moms! Here, at last, is help millions of home schoolers have been waiting for. Written by two home teaching moms, this book answers the questions home schoolers are asking:
• How can I prevent burnout?
• What do I do with my preschoolers while I teach?
• What if my child isn't "getting it?"
• How can my husband help?
Writing with wisdom, candour and humour, the authors share the situations, solutions, successes and yes, even the failures home teachers face. A Survivor's Guide to Home Schooling offers practical suggestions, support, and encouragement. (Christian)


---
The Homeschooling Handbook: From Preschool to High School, A Parent's Guide (Revised 2nd Edition)
by Mary Griffith ISBN 0-7615-1727-8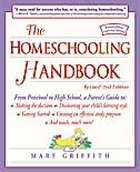 Author Mary Griffith sought to provide answers to all the questions she had about homeschooling when she was first starting out, and called on several dozen homeschooling families to help her describe the full range in styles of homeschooling and , along with the most useful resources, the most helpful support groups, the most daunting challenges, and most gratifying successes. Practical, down-to-earth, and to-the-point, The Homeschooling Handbook is essential reading both for families already homeschooling and for those just beginning to consider the idea. "The Homeschooling Handbook left me feeling like I'd visited the homes of many homeschoolers who generously shared their secrets, time, and wisdom. It would be a great addition to any homeschooler's library."
---
Help for the Harried Homeschooler : A Practical Guide to Balancing Your Child's Education with the Rest of Your Life
by Christine Field ISBN: 0877887942

Homeschooling moms and dads can be overwhelmed by the demands on their time. Between their children's educational needs; their roles as spouse, parent, and more; and their own individual desires and goals, these mothers and fathers struggle to accomplish all that must be done. In Help for the Harried Homeschooler, experienced homeschooler, author, and mother of four Christine Field offers sound advice for parents who want not only to achieve homeschooling success but also to reach a balance in their lives.

---
If you have read any books on Home Schooling and would like to write a review send it to me and we will share it with others