----------------------------------------------------------
Iraqi Safeehah
Dough
1. 8 cups of flour
2. 1 Tablespoon of yeast
3. 1/2 tsp salt
4. warm water
Mix Crisco into salted flour.
Mix egg into Flour mixture
Add warm water and knead dough
Separate into balls
Put balls into greased pan. Let rise for 1/2 hour.
Filling:
5. 2 lbs of ground meat
6. salt and pepper
7. 4 large onions chopped
8. tahinah
9. white vinegar
10. lemon juice
11. lebna
12. snobar (I think this is those pine nuts)
Brown meat
Add salt, pepper, and onions cook until tender
Mix tahinah, vinegar, lebnah and lemon juice
Combine all ingredients including snobar
Put on top of dough (dough has been flattened and filling goes on top
Bake at 500 degrees for 10 minutes
Mix Crisco into salted flour.
Mix egg into Flour mixture
Add warm water and knead dough
Separate into 4 balls
Let set covered in warm oven for 1-2 hours
----------------------------------------------------------
Chocolate Chunk Pecan Pie

1 unbaked 9 inch (4cup volume) deep-dish pie shell
3 large eggs
1 cup light corn suyrup
1/2 cup granulated sugar
1/4 cup (1/2) stick) butter or margerine, melted
1 teaspoon vanilla extract
1 cup pecan halves, coarsely chopped
3/4 cup semi-sweet chocolate chunks

Preheat oven to 350@ F. Combine eggs, corn syrup, sugar, butter and vanilla extract in medium bowl with wire wisk. Stir in pecans. Sprinkle chunks over bottom of crust. Pour pecan mixture into pie shell. Bake for 50 to 55 minutes or until knife inserted 2 inches from center comes out with a little bit of filling attached. If browning too quickly, cover with foil. Cool on wire rack for 2 hours; refrigerate until serving time. makes 8 servings.

*If using frozen pie shell, use deep-dish style.do not thaw. Bake on baking sheet.

----------------------------------------------------------
Verily! We have sent it (this Quran) down in the night of Al-Qadr.And what will make you know what the night of Al-Qadr is? The night of Al-Qadr is better than a thousand months Therein descend the angels and the Ruh (Gabriel) by Allah's Permission with all Decrees, Peace! until the appearance of dawn (Qur'an 97:1-5)
----------------------------------------------------------
Spicy Rice Dish

Two 1lb eggplants, cut in 1/2 inch thick rounds
Olive oil nonstick spray
1/4 teaspoon each salt and pepper
1 medium onion, diced
6 plum tomatoes, diced
1 jar(16oz) tomato alsa
1/3 cup currants or chopped raisins
1 1/2 tsp each ground cinnamom and cumin
2 1/2 cups cooked brown rice

Mint Sauce

1cup plain lowfat yogurt
2 tbsp chopped fresh mint
1 1/2 tsp grated lemon peep
1 tsp minced garlic
1/8 tsp each sal and pepper


1. Romove broiler pan with rack from oven. Have a shallow 8 in square baking dish ready.

2. Place eggplant in large bowl; coat all sides with nonstick spray. Sprinkle with salt and pepper. Layer 1/2 on brolier tray. Broil 4 inches from heat 6-8 minutes until lightly browned and tender. Repeat with remaining eggplant.

3. Meanwhile coat a large nonstick skillet with nonstick spray. Heat over medium heat. Add onion; saute 5 minutes until golden. Stir in rest of ingredients except Mint Sauce.

4. Turn oven to 375@ F. Line baking dish with half the eggplant. Top with rice mixture; cover with remaining eggplant. Cover dish and bake 30 minutues until hot.

5. Mint Sauce: Mix ingredients in a bowl; pass at the table.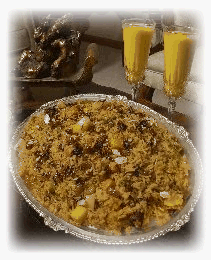 Nutritional Lentil Soup
Ingredients 2 onions, chopped
2 cloves garlic, minced
1 teaspoon grated fresh ginger
6 cups water
1 cup red lentils
1 (15 ounce) can garbanzo beans, drained
1 (19 ounce) can cannelloni beans
1 (14.5 ounce) can diced tomatoes
1/2 cup diced carrots
1/2 cup chopped celery
1 teaspoon dried mixture of cloves and cinnamon
1 1/2 teaspoons ground cardamom
1/2 teaspoon ground cayenne pepper
1/2 teaspoon ground cumin
1 tablespoon olive oil
Directions
In large pot sauté; the onions, garlic, and ginger in a little olive oil for about 5 minutes.
Add the water, lentils, chick peas, white kidney beans, diced tomatoes, carrots, celery, clove, bits of cinnamon, cardamom, cayenne pepper and cumin. Bring to a boil for a few minutes then simmer for 1 to 1 1/2 hours or longer, until the lentils are soft.
Puree half the soup in a food processor or blender. Return the pureed soup to the pot, stir and enjoy!
This is a highly balanced food with protein, minerals, and fiber.
Makes 6 plus servings
----------------------------------------------------------
Moroccan soup
Ingredients: 1 lb. lamb, cut into small cubes
1 teaspoon turmeric
1 teaspoon pepper
1 teaspoon cinnamon
1/4 teaspoon ginger
2 Tablespoons butter
3/4 cup chopped celery and leaves
2 onions, chopped
1/2 cup parsley and cilantro, chopped
1 2-lb. can of tomatoes, chopped
salt
3/4 cup lentils
1 cup chickpeas (canned are fine)
1/4 cup fine soup noodles
2 eggs, beaten with the juice of 1/2 lemon
Put the lamb, spices, butter, celery, onion, and parsley/cilantro in a large soup pot and stir over a low heat for 5 minutes. Add the tomato pieces, and continue cooking for 10-15 minutes. Salt lightly.
Add the juice from the tomatoes, 7 cups of water, and the lentils. Bring to a boil, then reduce heat, partially cover, and simmer for 2 hours.
When ready to serve, add the chickpeas and noodles and cook for 5 minutes. Then, with the soup at a steady simmer, stir the lemony eggs into the stock with a long wooden spoon. Continue stirring slowly, to create long egg strands and to thicken the soup. Season to taste. ladle into bowls and dust with cinnamon. Then there's always those little bowls of extra lemon juice for you inveterate sour pusses.
Now a little attention to the desserts which plays a very important role in the season, both during the Ramadan fast and also on the day of the great Eid feast.

Beef Meatballs
Ingredients:
1/2 lb ground beef
1/4 teaspoon oregano
2 tablespoons grated Italian cheese (Parmesan and/or Romano)
1/2 teaspoon salt
1/4 teaspoon pepper
1/4 teaspoon garlic powder
1 egg
1/4 cup cool milk
1/4 cup seasoned bread crumbs
Direction:
Mix ingredients in given order one by one. After completely mixed by
hand, let stand for at least 20 minutes. Form into meatballs (golf
ball size) and fry slowly until golden brown. Do not turn until
completely done on one side and do not crowd pan. If not using teflon
pan, cook in 2 tablespoons oil.
To make it taste real mouthwatering dunk it in rich tomato sauce. Here is the tip for such a yummy sauce:
Tomato Sauce
Ingredients:
1/4 cup chopped onion
1 clove garlic, minced
2 tablespoons butter
1/4 cup grated cheese
1 cup mushrooms, sliced
No 2-1/2 can Italian Tomatoes
2 6 oz cans tomato paste
1-1/2 teaspoon salt
1 teaspoon sugar
1/2 teaspoon oregano
1/4 cup chopped parsley
1/2 teaspoon baking soda
Directions:
Saute onion and garlic in butter for 5 minutes. Crush tomatoes into
medium pieces. Add all ingredients except baking soda, mushrooms, and
meat balls. Simmer in covered saucepan for one hour. Stir sauce often
and keep heat low. Add browned meatballs and simmer 30 minutes.
During last 15 minutes add mushrooms. During last 10 minutes add
baking soda. If sauce is too thick, add water. If sauce is too thin,
cook uncovered for 15 minutes.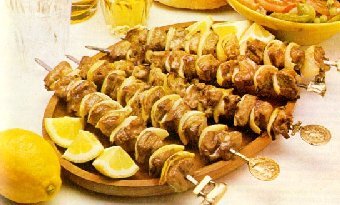 Fresh Fig Cake
Ingredients: 1/4 cup butter, softened
1 cup white sugar
1 egg
2 cups all-purpose flour
1/2 teaspoon salt
2 teaspoons baking powder
1 cup evaporated milk
1 teaspoon vanilla extract
1/4 teaspoon almond extract
1 cup chopped fresh figs 1/4 cup packed brown sugar
1/4 cup water
2 cups chopped fresh figs
1 tablespoon lemon juice
Directions
Preheat oven to 350 degrees F (175 degrees C). Spray two 8-inch round cake pans
with vegetable oil spray.
In a medium bowl, sift together flour, salt and baking powder. Set aside.
In a large mixing bowl, cream butter with the sugar until fluffy. Add egg and beat well. Add flour mixture alternately with the evaporated milk. Fold in vanilla and almond extracts and chopped figs. Divide into two prepared 8 inch round cake pans. Bake at 350 degrees F (175 degrees C) for 30 minutes, or until a toothpick inserted into the center comes out dry.
To make the filling: In a saucepan, combine 2 cups figs, brown sugar, water and lemon juice. Bring to a boil. Reduce heat to a simmer and cook until thickened, about 20 minutes. Spread thinly between layers of cake and on top.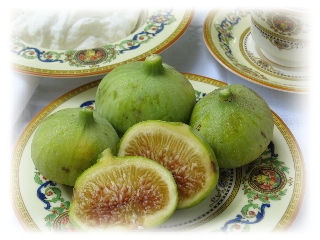 Rich Semolina Cookies
Ingredients: 1/2 cup cake flour
1/2 cup all-purpose flour
1 cup semolina flour
1 cup clarified butter 2/3 cup confectioners' sugar
3/4 teaspoon orange flower water
30 blanched almonds
Directions
Preheat oven to 275 degrees F.
Sift together the cake flour, all-purpose flour, and semolina and set aside.
Beat the butter for at least 10 minutes until it is fluffy. Then beat 2 more minutes while sprinkling in the blossom water and confectioners' sugar.
Fold in the flour mixture gradually. Then refrigerate the soft dough in covered bowl for about 10 minutes.
With the help of a diamond shaped cookie cutter, shape the dough into 1 inch sided diamonds and place them 1/2 inch apart on an ungreased baking sheet. Then place an almond in the center of each cookie.
Bake for 35 to 40 minutes in an oven preheated to around 275 degrees F. Do not overbake. Let the cookies cool for at least an hour. They are best served when cooled for several hours.
Makes 2 dozen
----------------------------------------------------------
Grape Leaves
The grape leaves I make are vegetarian, and I use the rice recipe to stuff veggies too. The rice is a pretty typical Egyptian stuffing for everything from eggplant to peppers. Here it is:

1 large onion diced
2 cups short grain rice
1 bunch parsley chopped fine
2 tsp dry mint crushed
1/8 tsp allspice
1 14 oz can chopped tomatoes

Then of course you need a jar of grape leaves

What I do is fry the onion in a little oil. Then I add the other ingredients and cook until the liquid is absorbed. Then, you just roll it up in the leaves (veined side in) and stack them in a pot with the stems of the parsley on the bottom to lift the leaves and keep them from sticking.

Now the rolling is much easier to show than it is to tell…. But here is my best shot. You clip off the stem, and then put a spoon of rice (like a rounded tsp) on the leaf. Then, you start rolling from the bottom where the stem was and you fold the sides in towards the center to make a cylinder shape. The real trick is to vary the rice a little depending on the size of the leaf. If you fill them too much they will burst when you cook them. Also, if the leaf is huge, cut it in half down the middle and make it two rolls.

You can also stack them several ways… I tend to do them lying flat and just try to leave as little space between them as possible. I have seen them placed on end in a pot too… But stacking just seems more efficient to me.

Then you cover (a little under the top of the stack) with water or broth (one w/o too much salt since the leaves are pretty salty already) and weight it down with a plate.

Simmer for about 45 minutes:)
----------------------------------------------------------
Egyptian Eggplant
6 large eggplants
1 lb ground beef
Oil for frying
1 bell pepper
2 medium onions
4 cloves garlic
1 tsp coriander
I can (14 oz) tomato sauce
4 tbsp tomato paste
Salt and pepper
Peel and slice the eggplant (1/2 inch thick) salt it and put it aside for about 3 hours.
Cook the ground beef. Set it aside.
Put the tomato paste in a little oil and cook it over med high for a few minutes. Then add the sauce and some salt and pepper. Let simmer for about 10 minutes.
Now, chop the onion, garlic and bell pepper very fine in a food processor. Add the coriander, set aside.
Wash the salt off the eggplant and dry it a little. Now, in a skillet with about an inch of oil, fry the eggplant on med high (depending on your stove) until a little golden, and soft. Set it on a towel to absorb the extra oil.
Now, in a baking pan, layer the sauce, eggplant (putting a tsp of the pepper/onion on each slice of eggplant), the ground meat then some sauce. Finish with the sauce on top. Cover and bake in the oven for about 45 minutes on 350.
----------------------------------------------------------
Bamiyah
about 4 cups small okra (fresh or frozen will both work, if frozen you need about 2 of the smaller packages)
1 medium onion (minced)
1 small bell pepper(minced)
3 cloves garlic(minced)
1 tbsp ground coriander
3 cardamom pods
1 lb cubed meat olive oil
1can tomato sauce


Brown the meat in a skillet with enough oil to cover the bottom. Take the meat out, and fry the onion, pepper and garlic for about 5 minutes.

Now add the ingredients all into a bowl and mix them up.

Put in a casserole dish and cover. Bake at 350 until the okra is tender (about 45 minutes). If it starts to look dry during cooking, add water.

Serve as a side dish for a big dinner or even just put it with rice and salad for a family meal!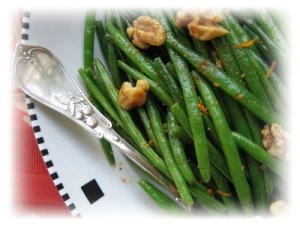 5 carrots,
Olive oil,
1 cup plain yogurt,
garlic cloves
salt,
Wash the carrots, peel them with vegetable peeler.
Then cut the carrots vertically quarter of an inch thick circles.
Ground three or four cloves of garlic.
Mix the garlic and salt with one cup of plain yogurt. Heat olive oil in the frying pan for few minutes. Fry the carrots in the hot olive oil for ten minutes or until brown.Lay the fried carrots on paper towels to drain excess oil. Place the carrots on a plate and dress them with the yogurt, garlic, and salt mixture. This meze could be enjoyed warm or cold.
----------------------------------------------------------
2 cups of rice, pre-soaked and drained,
5 cups of water, or beef stock,
1/2 lb Lamb leg meat, cubed,
1/3 cups of canola oil,
2 Onions, finely diced,
3 medium Carrots, julienned
5 Garlic heads
2 tsp salt,
1 tsp cumin,
1 tsp red pepper.
Saute onions and carrots, over medium heat until lightly browned.Add meat and stir until browned. Add 2 cups water, and cook over medium-high heat about 6-7 minutes until meat is tender.Add rice, and heads of garlic into stew.Add rest of the water, do not disturb layering of rice and stew, and boil uncovered until rice absorbs water, for about 45 minutes. When rice is soft reduce heat to minimum, cover pot and let the rice steam 25 more minutes.
About 5 servings.
----------------------------------------------------------
Banana Cake with Caramel-custard topping
Melted butter, for greasing
125g unsalted butter, chopped
1 tsp vanilla extract
3/4 cup caster sugar
2 eggs 3 large bananas, mashed
300ml carton thick sour cream
2 cups SR flour, sifted
1/2 tsp bicarbonate of soda, sifted
1 tsp nutmeg, sifted
1 tsp allspice, sifted
Topping
300ml carton thick sour cream
3 tbsp dark brown sugar
1 tsp vanilla extract
1 Preheat oven to 180 degrees C. Brush a deep, 20cm round springform tin with melted butter and line the base and sides with baking paper. Lining must rise at least 5cm above the rim of the tin.
2 Place unsalted butter and vanilla in small bowl of an electric mixer and beat until the butter increases in volume and is a pale yellow colour. Add the sugar and beat until it dissolves and mixture is light and fluffy. Add the eggs one at a time and beat well between each.
3 Transfer the creamed butter and sugar mixture to a large mixing bowl, add the bananas, half the sour cream (reserve the rest), sifted flour, bicarb and spices, and mix with a wooden spoon until just combined. Spoon the mixture into the prepared tin and smooth the surface.
4 Bake for 45-50 minutes or until a skewer comes out clean from the centre. Remove from the oven and spoon the topping onto the cake, spread out evenly and return to the oven for 10 minutes.Turn off the oven, leave door ajar and leave cake inside for another 20 minutes. Remove cake and stand it on a cake cooler until cold. Remove from springform tin and peel away the paper.
5 To make topping: Place the reserved sour cream and the other 300m1 of cream in a medium mixing bowl, add the sugar and vanilla and stir until just combined.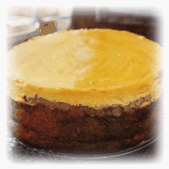 Indonesian Spice Cake

2 cups sifted cake (self raising) flour, plus more for dusting
1/2 teaspoon baking powder
1 teaspoon freshly grated nutmeg
1/2 teaspoon ground cloves
4 teaspoons ground cinnamon
Pinch of kosher salt
1-1/2 cups unsalted butter (3 sticks), at room temperature, plus more
for greasing
1-2/3 cups granulated sugar
4 large eggs, at room temperature
3 large egg yolks, at room temperature, lightly beaten
2 teaspoons vanilla extract
1 tablespoon powdered sugar (optional)
Method:
1. Position a rack in the middle of the oven and preheat the oven to 325 degrees. Grease and lightly flour a 9-inch tube pan with 3-1/2-inch sides (or, my preference, use a nonstick pan of the same size but don't grease and flour it).
2. Resift the flour along with the baking powder, nutmeg, clove, cinnamon and salt into a bowl. Now, resift the flour mixture and then set it aside.
3. In another bowl, using an electric mixer on high speed, beat the butter until it's soft and very pliant, about 1 minute (or 4 to 6 minutes by hand with a wooden spoon). Gradually add the granulated sugar and beat on high speed until the mixture is pale and fluffy, 3 to 5 minutes (or 6 to 8 minutes by hand).
4. One at a time, add the 4 whole eggs and beat on high speed until the mixture is light and fluffy, about 2 minutes (or 5 minutes by hand).
5. Add the flour mixture to the butter mixture in 3 equal parts, beating on low speed or stirring with the wooden spoon until the batter is smooth and the flour is well combined with the butter mixture. Add the egg yolks and vanilla and continue to beat or stir until they're well mixed into the batter.
6. Pour the batter into the prepared pan, smoothing the surface. Place on the middle oven rack and bake until a toothpick inserted into the thickest part of the cake comes out clean, about 1 hour (though I'd recommend checking it after 45 minutes).
7. Remove the pan from the oven and let the cake cool in the pan on a wire rack for 10 minutes. If necessary, carefully run a thin knife around the perimeter and the inner rim of the cake to help loosen it from the pan. Invert the pan onto the rack and lift it off of the cake. Turn the cake right side up and let it cool on the rack.
8. Transfer the cake to a serving platter. Using a fine-mesh sieve, dust the top with powdered sugar, if desired.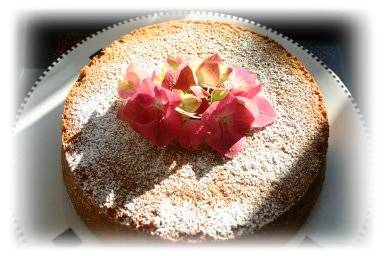 Southern Fried Chicken with Moroccan Spices
Ingredients:
3/12 to 4 pound chicken, cut into 8 pieces
Salt to taste
1-3/4 cups flour
1 scant teaspoon cinnamon
1 scant teaspoon ras-el-hanout (see note)
Freshly ground black pepper to taste
Peanut oil
1-1/2 cups buttermilk
Lemon wedges (optional)
Siracha or other hot sauce (optional) (see note)
Equipment: Cast iron frying pan and Deep frying thermometer
Method:
1. In the refrigerator, soak the chicken overnight in a bowl of cold water covered with plastic.
2. When you are ready to cook, pat dry with paper towels and sprinkle with salt to taste. If the breasts are large, cut them in half with kitchen shears.
3. In a large bowl, combine the flour, cinnamon, ras el hanout and black pepper. Dip each piece of chicken into the flour mixture and shake off the excess. Let the flour dry for 15 minutes. Pour the buttermilk into a large bowl and set aside.
4. In the meantime, pour about 1 inch of peanut oil into a cast iron frying pan and turn the heat to high. When the oil reaches 350 degrees on a deep frying thermometer, adjust the heat to maintain that temperature.
5. Dip half of the chicken pieces in the buttermilk and then into the bowl of flour, shaking off the excess. Carefully place them in the hot oil, skin side down, using tongs if necessary. Fry the chicken until it is light golden brown, turning frequently.
6. Place the chicken skin side down, cover the pan and turn the heat to low. Cook the chicken for 6 minutes, then turn and cook, covered, for another 6 minutes. Remove the top and turn the heat to high. Cook the chicken until it is crispy, about 2 minutes, then turn and cook until the other side is crisp, about 1 minute.
7. Remove the chicken from the pan and drain on several layers of paper towel. Place them on a baking sheet in a 250-degree oven to keep them warm.
8. Repeat steps 5-7 with the remaining chicken. Be sure to bring the temperature of the oil back to 350 degrees before putting the second batch of chicken in the pan.
9. Serve the chicken on a platter with wedges of lemon and small bowls of siracha, the Vietnamese hot sauce, if desired. I like to accompany it with a bowl of cole slaw made from red and green cabbage dressed with a white balsamic vinaigrette.
Note: I made Kitty Morse's recipe for ras el hanout.Siracha, the fiery Vietnamese hot sauce, can be found at most Asian markets.