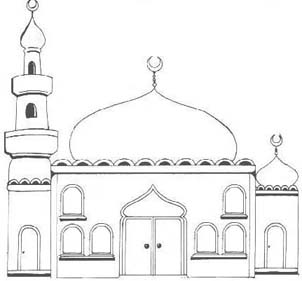 Mosque Craft Mobile

Make a copy of an Islamic Design, for example a drawing of a simple Mosque with a Minaret, like the one above. You can simplify it to the best you can,depending on the ability and age of the children.

Copy the above (Ramadan) poem in an attractive font to the size you need to place
it inside the Mosque picture. The poem can be split into two halves, with each half
glued to the right or left side of the door of the mosque in the diagram, i.e. on top
of the area of the windows in the diagram.

Make additional copies after you have glued the poem inside for the
amount of children participating.

Glue pictures to thin cardboard, and then cut out around the outline of
the Mosque.


Have children color and/or decorate with colored glitter.

Punch a hole in the top of the Mosque and tie a long string or ribbon
through it to hang from the ceiling.